BENIGNFEBRILE SEIZURES
DemographicProfile
Name:H.T
Age: 1year old
Sex:Female
Religion:Born Again Christian
Place:Pasig City
Date ofAdmission: January,30 2021
Setting:Hospital
ChiefComplaint: Upward rolling of the eyeballs and stiffening of thebilateral upper and lower extremities
VitalSigns:
Temp:38.3 °C HR: 140
RR: 40SPO2: 94% at room air
HistoryPresent Illness:
1 dayprior to admission
Patientexperienced fever with Temperature of 39.3 °C temporarily relievedby intake of Paracetamol. Associated with one episode of non-projectile, non-bilous vomiting, of previously ingested milkamounting to approx. 1⁄2 cup. No cough, colds, loose bowelmovement, ear discharge, rashes nor seizure noted.
FewHours PTA
Stillwith the same symptoms, but now accompanied by one seizure episodedescribed as upward rolling of the eyeballs, circumoral cyanosisand stiffening of bilateral extremities lasting for less than 5minutes and with no noted loss of consciousness; hence consult tothe ER department of this institution and subsequentadmission.
PastMedical History :
Noprevious history of febrile nor afebrile seizures
FamilyHistory
febrileseizures: mother side
PhysicalExamination:
General:
Skin:No lesions, rashes, scaling noted. Good skin turgor
HEENT:Anicteric sclerae, pink palpebral conjunctiva, PERRLA, no cervicallymphadenopathies
CARDIOVASCULAR:PMI at 4th left ICS MCL. Distinct S1 and S2, with normal rate andrhythm.
RESPIRATORY:No nasal flaring, use of accessory muscles, no chest walldeformities. Equal lung expansion with clear breathsounds.
ABDOMEN:No lesions, globular and non distended. Normoactive bowel sounds.Tympanitic in all quadrants. No palpable mass nor tenderness. Noorganomegaly noted.
EXTREMITIES:No gross deformities, no edema noted. Capillary Refill Time <2sec. Bilateral brachial pulses and dorsalis pedis werefull
GENITALIA:Grosslyfemale, with no noted erythema or discharge NEUROLOGIC:
I- notassessed
II- 2-3mm pupils equally reactive to light
III,IV,VI- Intact Extraocular Movements, no nystagmus, no strabismus V-not assessed
VII- Nofacial asymmetry
VIII-good gross hearing
IX,X-uvula midline, good suck and swallowing
XI- nodifficulty in turning head from all sides
XII-tongue midline
NoKernig's and Brudzinski's sign No bulging fontanel
***Please read the case study and answer the question in the pictureusing specifically the Mnemonics METHODS indicated in thepicture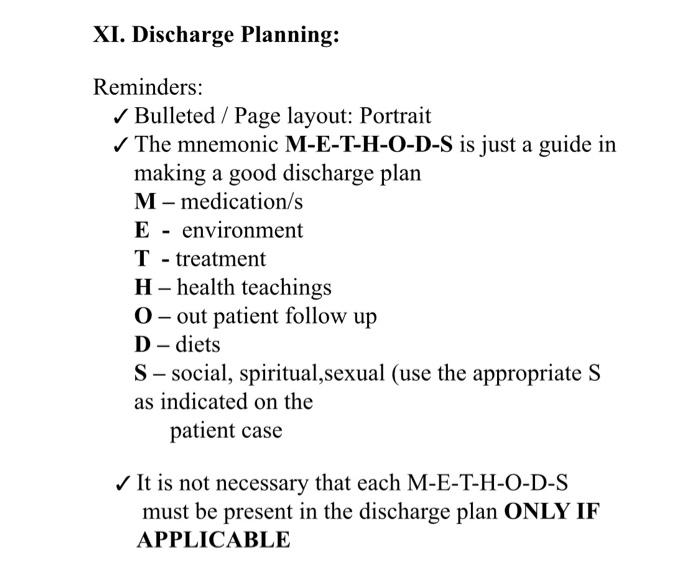 Thequestion here is to make a Discharge Plan following these stepsMedication, Environment, Treatment, Health Teaching, outpatientfollow up and Sexual. Read the case study i posted to be able tomake the Discharge Plan for the patient